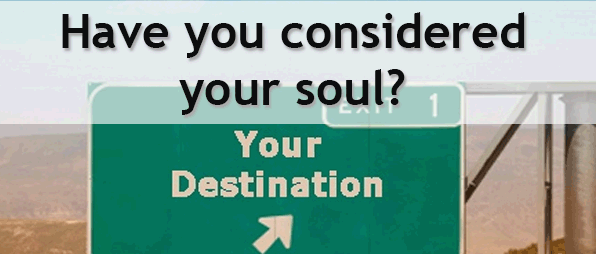 There is no doubt there is not a significant amount of confusion in our society today related to issues of religion. Many people have questioned what our parents and their parents before them took for granted. There is a side to this that is healthy, but there is also the fact that many people have abandoned any concern for Christianity. They give thought to what they eat, their health care, their bank account, job, home, career, and even the environment, but give little attention to their relationship with God. Consider for a moment the illogic. Your life and mine may be 80 + years if we are fortunate, but eternity is forever. Christ said, "For what does it profit a man if he gains the whole world, and forfeits his soul (Mark 8:36)?" There is no comparison to the amount of emphasis that should be placed on eternity as compared to this life, yet for most - almost all, emphasis is placed here. Unfortunately, this is even true in many of the churches in America that claim to be preaching and teaching the Bible. But, that is not the emphasis of the Bible, and of our Lord Christ, from whom we derive the name "Christianity," or from His Apostles and Prophets. The Bible declares "we brought nothing into the world, so we cannot take anything out of it either" (1 Tim 6:7).
Have you considered your soul lately? Where are you in relation to God? Have you bought the lie of the day that God will simply overlook all your sins, your neglect of truth, and your living only for self? You may have thought: "I am a pretty good person. I don't hurt anyone. I take care of my responsibilities, and I am a decent citizen." The Bible presents a far clearer picture of all of us. We may think we are OK, or we are better than many around us, but a biblical look, and an honest look, will show us to be full of wicked thoughts, and practicing sin. Some more than others, and the daily news clarifies the reality of the truth of mankind's character. But, don't kid yourself – all of us are made the same. We sin, and are capable of any sin. Our tendency is to get use to the sewer of our sins, but the Bible tells us why we behave the way we do. It is only the Bible that tells us the truth about ourselves. We are "dead in trespasses and sins" (Ephesians 2:1). Our God who is our Creator, on the other hand, is not like us. He is holy, righteous, and good. We are appalling in His sight. Not only are we in a miserable state of sinfulness. We are incapable of helping ourselves out of the condition – thus the concept of "dead in sins." We cannot help ourselves or make ourselves acceptable to God. We are hopelessly bound toward and inevitable state of judgment because of our offenses against a righteous and just God who made us, and is the owner and responsible keeper of us. This is the sobering reality, most do not want to face or believe.
You may know the story of man's original sin in the Garden of Eden (Genesis 3). Adam and Eve cast the whole human race under an unbreakable condition of sin. We are by nature sinners. That is a fact that cannot be disputed, and the Bible has the only explanation of why we are what we are. But, there is good news! The good news is that God has provided a way of escape. He first introduced the means at the time of Adam and Eve's sin. He promised a Deliverer from Satan and sin (Genesis 3:15). As the Bible progresses through history the picture of this Deliverer becomes clearer, and clearer. He has sent the only One capable of taking our justice upon His own self. He has sent His own Son, the Second Person of the Trinity to be our sin bearer. He bore the sins of His people on the cross, so that they might not justly perish from their sins, but have life. I am very sure you have heard something of this story, but you may have never taken it seriously. Let me encourage you to read the Bible for yourself, and explore this incredible story. It will be the most worthwhile endeavor you could ever undertake.
In Matthew's Gospel, chapter 7, Jesus concludes His "sermon on the mount." In that summary He concludes with two major pictures for consideration. He first speaks of people making decisions about two different roads. One road is the broad road. It is the road that most people are traveling, and Christ says it is a road leading to destruction. The other road is the narrow road. Christ says this road leads to life, but there are few people who find it. Have you considered the wisdom and insight of this? Which road are you traveling right now – today? If God takes your life today, and you are on that road , Christ says you will end up in destruction. Why not consider the road less traveled that leads to life? The narrow way He says is difficult to find. Where do you find it? You find it in reading and studying God's Word - "in the exercise of His will He brought us forth by the Word of truth" (James 1:18), and "you will know the truth and the truth will make you free" (John 8:32).
The second and final picture Christ gave in that sermon was a man building a house on sand, and another man building a house on a rock. He then pictured a storm coming, and the house built on sand collapsed, while the house built on the rock stood firm. The building of the house is a figure of speech of what all of us are doing with our lives. We are either building a house on sand, or on rock. The rock is Christ, and the sand is anything else. Only those building their house on Christ, living for Him by faith, will ultimately not undergo the inevitable calamity. Where are you building your house (your life) today?
Dear friend, I don't propose to anyone reading this short essay to merely convince you of Christ by this short reading. I do hope I have raised your concern and curiosity. Let me propose to you to "search the Scriptures" for Christ, and to inquire further into the truth. Find a church that really teaches the Word of God. Your soul is too valuable to neglect it, or take it for granted. As the Scripture itself says: "I beg you on behalf of Christ, be reconciled to God." Christ said that "He is the way, the truth, and the life, no one comes to the Father except by Him" (John 14:6). He is absolutely the One to seek, and if you find Him, you will find the greatest treasure imaginable. Seek to know Him from His holy Word, and find that narrow way that leads to life! If we can help you, let us know.